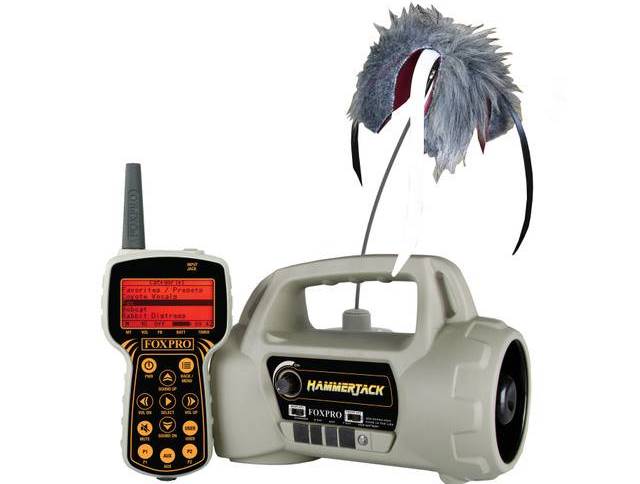 Introducing the NEW FOXPRO HammerJack! Get the attention of wary predators by appealing to their ears and eyes with FOXPRO's lightweight, portable HammerJack Predator Call. Loaded with 100 sounds of your choice from the FOXPRO Premium Sound library and 100+ calls from the FOXPRO FREE Standard Library and will hold up to 300 sounds, you can be sure to find the call they want to hear. The FoxJack 4 decoy with the FOXPRO Fuzzy Wuzzy topper is sure to make them cast aside any possible doubt. Dual-amplified speakers produce exceptional volume to reach distant animals and cut through wind. Front horn speaker excels at coyote vocalizations and common distress sounds, while the rear cone speaker spits out the low-frequency sounds like growls and hoots. Audio jack lets you attach two external speakers if you want even more volume. FoxBang™ automatically switches to a sound of your choosing when it senses your muzzle blast. FoxCast™ lets you program calling sequences. Easy-to-use remote has essential features like two preset buttons, mute button and volume up/down buttons. Charging jack, auxiliary jack and a USB port. Manufacturer's limited Three-year warranty. Made in USA.
The HammerJack features dual amplified speakers: one front horn speaker that puts out high volume coyote vocalizations and common distress sounds with ease; and one rear cone speaker that makes low frequency sounds such as bear growls, owl hoots, and even mountain lion purrs. When combined the dual speakers deliver a clear, crisp, high quality, and realistic sound at incredible volume. For even more volume, the HammerJack allows you to connect to external speakers.
Sounds are listed in a categories file on the remote control, along with, 2 preset buttons, power on/off switch, volume up/down buttons, and a mute button. The FOXPRO HammerJack Electric Game Call utilizes FOXBANG™ and FOXCAST™ technologies, and comes with a FoxJack™ decoy. Includes: charge jack, auxiliary jack, and a USB to reprogram the call when wanted.
Key HammerJack Features:
Eye-catching FoxJack 4 decoy with a Fuzzy Wuzzy topper
Dual speakers produce exceptional volume and realistic clarity
Audio jack allows you to add external speakers for more volume
Easy-to-use remote lets you set it up away from your position
Comes with 100 sounds, and 100+ FREE sounds (300 sound capacity)
FoxJack decoy (included)
FoxBang - FOXBANG™ With FOXBANG activated the caller automatically switches to your preset #1 after discharging you shoot. This allows for hands free sound changing operation to help keep your eyes focused on the field where it counts.
FoxCast - Includes 10 preset hunts titled:

- Grey Fox
- Red Fox
- Bobcat (various distress)
- Coyote (various distress)
- Crow (rabbit distress & crow)
- Dinner Bell (various distress)
- Coyote Stand (various distress
- Coyote Vocals
- Ol' Faithful (various distress)
- Prey Distress (various distress)
- Or you can design up to 10 entire stands of your own including the individual sounds, volume levels, duration, and passages of silence. When selected, a custom sequence will go through the steps you defined and complete your entire calling sequence without requiring any need for using the remote control.
NOTE: FOXCAST sequence files are based off of the standard factory sound listing. When custom programming a unit, the standard sounds are erased making the sequences invalid / no longer available. However, if you desire to have sequences, you can build sequence files with the custom programmed sounds that will come on your unit.
Category sound files
Dual-amplified speaker system
2 external speaker jacks
Auxiliary jack
USB port to reprogram sounds
HammerJack is backed with a 3 year limited warranty
The HammerJack comes standard with the TX-915 remote control. Key TX915 Remote Control Features
Improved remote performance with enhanced user interfaceability
The extra large LCD panel provides easy to read text and menu navigation. The LCD panel features a red back light with adjustable brightness control which allows you to change the intensity of the backlight in a range from 10% - 100%. for nighttime operation.
2 Custom Sound Presets. Two quick access preset buttons are located on the front side bottom of the TX-915.
Mute Button
Volume Up/Down (20 steps of volume)
The TX915 Series Remote Operates on 3 'AA' Batteries (the HammerJack uses 8 AA Batteries)
Extra-Large 2.7" LCD Panel The extra large LCD panel provides easy to read text and menu navigation.
Handy volume level indicator
Battery state of charger level indicator
Elapsed timer to let you know how long you've been on stand
SOUND PROGRAMMING
If you select "Standard Factory Programming" The Crossfire will come programmed with standard factory sound list - Standard Factory Sound Listing HERE.
If you select "Custom Programming" when adding to the shopping cart, then the Crossfire come with 75 calls of your choice. Preview and pick your calls here: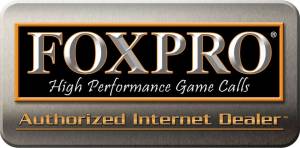 AllPredatorCalls.com is an Authorized Dealer and FOXPRO Sound Programming Facility. We stock a huge inventory of FOXPRO electronic calls. All FOXPRO models purchased INCLUDE FREE CUSTOM SOUND PROGRAMMING - YES! - You get to pick the sounds that are on your call! We custom program it and promptly ship the next business day! A FULL factory warranty is included with each FOXPRO product purchased from AllPredatorCalls.com. FOXPRO products purchased from websites without the FOXPRO Authorized Logo are sold without warranty or support.