The HELLFIRE from FOXPRO!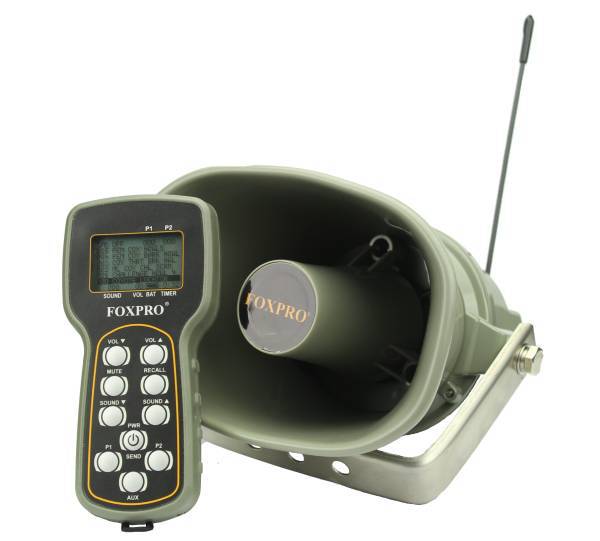 FOXPRO introduces the HELLFIRE which is an extremely portable call that gives you the huge volume of a much larger call. The HELLFIRE weighs in just under 3lbs with batteries, comes standard with 75 high quality FOXPRO sounds, a TX-9 remote control and FOXBANG technology.
The HELLFIRE has a high-power horn speaker, a user re-programmable USB port, external speaker jack, charge jack and an auxiliary jack for connecting an approved device such as a Jack predator decoy. The TX-9 remote allows you to change sounds, control the volume level, mute or pause the sound, has two custom sound presets, auxiliary button, recall button and much more.
The TX9 gives you full control of the HELLFIRE at your fingertips. It features a LCD display which shows you the title of the sound you are playing. Also, it displays the volume level you are operating at when you make a volume change. There are 20 volume steps, ranging from 1-20. The mute button not only mutes the sound, but acts as a pause feature also. When you un-mute the sound, it will start playing where it left off, rather than starting over. If you make changes to the sounds on the HELLFIRE, you can upload the sound list to the TX9 by use of the upload jack located on the side of the transmitter. The TX9 remote operates off a single 9V alkaline battery, with run times of 100+ hours.
The HELLFIRE is backed by a 3 year limited warranty and FOXPRO's unmatched customer support and is proudly made in the USA.
Key HELLFIRE Features:
Includes 75 calls of your choice; 200 sound capacity
HELLFIRE Specifications

Dimensions: 7.75" Long X 6.75" wide X 5.5" tall
Weight: 2.9lbs (with batteries)
File formats: MP3, WAV, and FXP
Operates on 10 AA batteries

TX-9 remote control
Includes FOXBANG Technology. With FOXBANG activated the caller automatically switches to your preset #1 (often set as a coyote in distress, as they often will stop, or come back to the call, even after you shoot) This allows for hands free sound changing operation to help keep your eyes focused on the field where it counts.
External speaker jack
Aux jack for controlling decoy
Charge jack for charging batteries (batteries & charger not included)
Low battery indicator
See the HELLFIRE Manual HERE
Watch the HELLFIRE Information Video
SOUND PROGRAMMING
If you select "Standard Factory Programming" The HELLFIRE will come programmed with standard factory sound list - See Standard Factory Sound Listing HERE.
If you select "Custom Programming" when adding to the shopping cart, then the HELLFIRE comes with 75 calls of your choice. Preview and pick your calls here: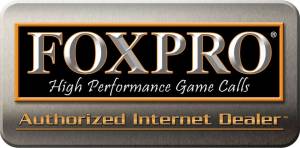 AllPredatorCalls.com is an Authorized Dealer and FOXPRO Sound Programming Facility. We stock a huge inventory of FOXPRO electronic calls. All FOXPRO models purchased INCLUDE FREE CUSTOM SOUND PROGRAMMING - YES! - You get to pick the sounds that are on your call! We custom program it and promptly ship the next business day! A FULL factory warranty is included with each FOXPRO product purchased from AllPredatorCalls.com. FOXPRO products purchased from websites without the FOXPRO Authorized Logo are sold without warranty or support.