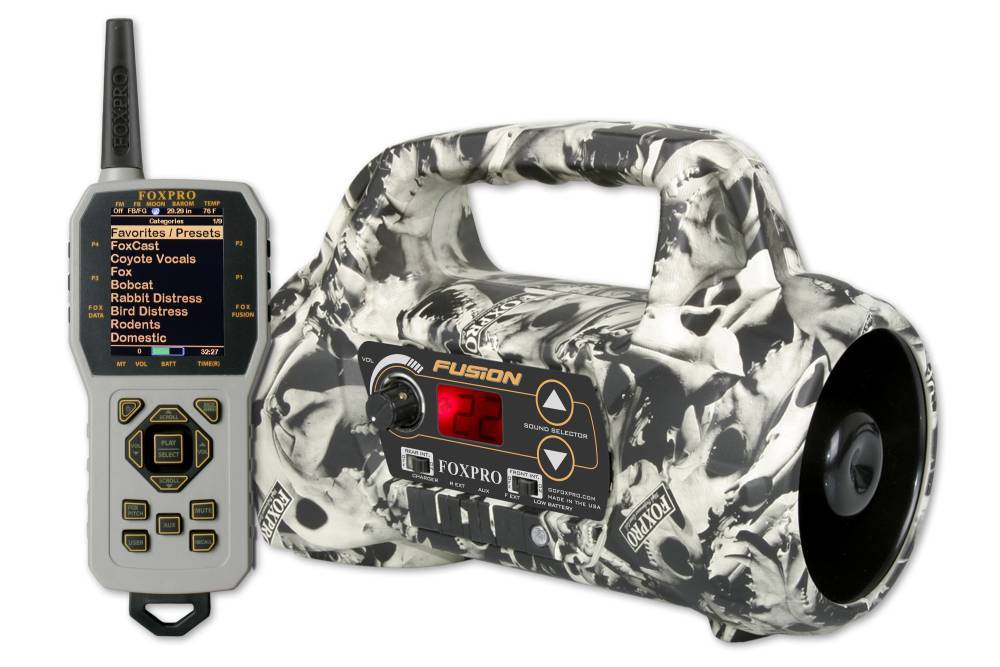 Experience a whole new level of predator calling with the FUSION from FOXPRO. The FUSION comes with 100 high quality FOXPRO sounds and can store and access up to 1000 sounds. The FUSION features dual amplified speakers to deliver incredible volume. The front horn speaker handles your coyote vocalizations and common distress sounds with ease. The rear cone speaker handles the low frequency sounds such as bear growls, owl sounds and even mountain lion sounds. When combined they deliver a crisp, clear, high quality and realistic sound. If you want even more volume, the FUSION allows you to connect two external speakers for incredible volume capabilities, has a charge jack, and auxiliary jack to connect an approved device such as a FoxJack decoy. You can operate the FUSION manually or with the TX-1000 remote control.
The TX-1000 features a full color graphic LCD screen which displays your sound list or sound categories. It also has a barometer indicator, moon phase indicator, temperature indicator, battery level indicator, timer or time clock, FOXBANG technology and much more. FOXMotion allows you to fade the sound from the left speakers to the right speakers to help "sell" the reality of your call sounds. FOXFusion allows you to mix and match any two sounds at the same time during your calling sequence. FOXPitch allows you to manipulate the "pitch" of the sound in an effort to trigger a response. FOXData allows you to record real time information from each and every stand so you can access the data for future reference. The FUSION is available in various camo options and is backed by a 5 year limited warranty and FOXPRO's unmatched customer support and is proudly made in the USA.
Key Base Unit Features:
The Fusion comes within various color options including Kryptic Highlander, Skull Camo (pictured), or Tan
FOXBANG™ Automatically switches to your preset #1 after discharging your firearm.
FOXMOTION™ Mimic moving prey by fading sound from left speaker to right one.
FOXFUSION™ Mix and match any two sounds of your choice.
FOXPITCH™ Lets you manipulate the "pitch" of any sound in an effort to trigger a response.
FOXDATA™ Activate FOXDATA and it records real time information (temp, barometer, moon phase, stand duration, shot time) from each stand. Over time you will be able to predict animal activity/hunting success based on hard data.
FOXCAST™ Virtually hands-free calling with FOXCAST sequence files.
AUTO VOLUME™ Automatically ramps up and modulates your volume.
Large Internal Storage. Store and play up to 1000 sounds.
The Fusion can play .mp3, uncompressed .wav, .fxp, and .24b (FOXPRO's proprietary file type)
Dual Amplified Speakers. Individually amplified horn (front) and cone (rear) speaker combination provides loud, crystal-clear audio and great frequency response. You can switch the internal speakers on/off from the main unit
Two External Speaker Jacks. Connect up to two additional speakers to the Fusion for a total of four speakers playing simultaneously
USB 2.0 Port. Quickly and easily reprogram your Fusion right from your computer!
Remote/Manual Operation. Use the Fusion with the remote or choose to operate it manually from the controls located on the front
Red Backlit LCD Display
Low Battery Indicator
Operates on 8 'AA' Batteries
Weight: approx 2.0 pounds
The FOXPRO Fusion backed with a 5 year limited warranty
The Fusion comes standard with the TX-1000 remote control. Key TX1000 Remote Control Features
Extra-Large 2.7" LCD Panel
The extra large LCD panel provides easy to read text and menu navigation.
Remote is powered by three AA batteries (not included)
Custom Sound Presets - Store up to 50 custom sound presets with individual volume levels. Four quick access preset buttons are located on the side of the TX-1000
Custom Sound Sequences - Design entire stands including the individual sounds, volume levels, durations, and passages of silence. When selected, a custom sequence will go through the steps you defined and complete your entire calling sequence without requiring any need for using the remote control
Volume "UP/DOWN" buttons
Mute Button
Handy volume level indicator
Battery state of charger level indicator
Elapsed timer to let you know how long you've been on stand
SOUND PROGRAMMING
If you select "Standard Factory Programming" The Firestorm will come programmed with standard factory sound list - See Standard Factory Sound Listing HERE.
If you select "Custom Programming" when adding to the shopping cart, then the Fusion comes with 100 calls of your choice. Preview and pick your calls here:
AllPredatorCalls.com is an Authorized Dealer and FOXPRO Sound Programming Facility. We stock a huge inventory of FOXPRO electronic calls. All FOXPRO models purchased INCLUDE FREE CUSTOM SOUND PROGRAMMING - YES! - You get to pick the sounds that are on your call! We custom program it and promptly ship the next business day! A FULL factory warranty is included with each FOXPRO product purchased from AllPredatorCalls.com. FOXPRO products purchased from websites without the FOXPRO Authorized Logo are sold without warranty or support.