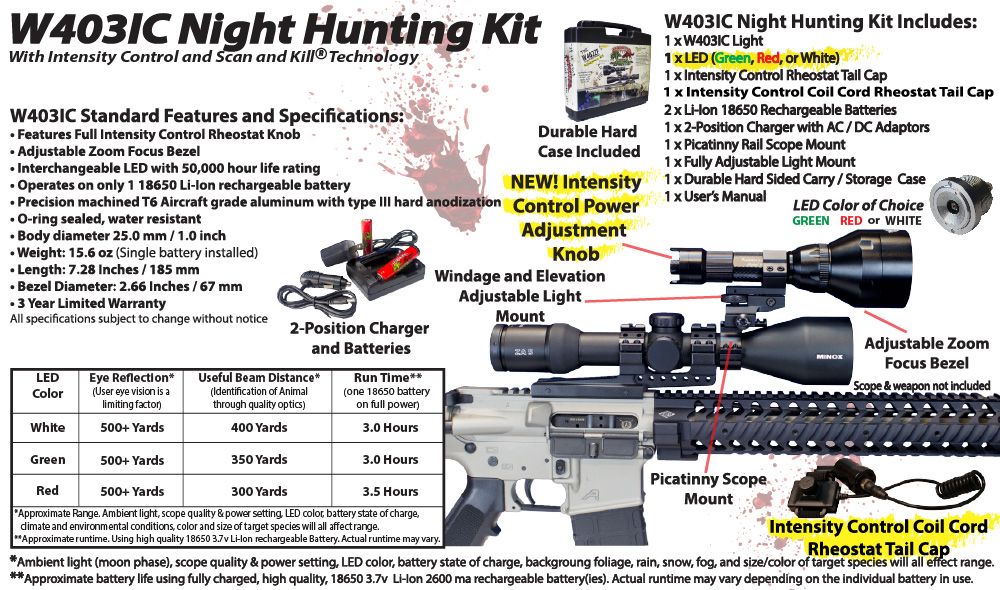 Wicked Hunting Lights™ is excited to announce the addition of the all new W403IC Hunting Light with Intensity Control and Scan & Kill® Technology. Successfully target hogs, coyotes, fox, bobcat, raccoon and varmints at night with the Wicked Hunting Lights™ W403IC Hog & Predator Hunting Night Hunting Light.
THE W403IC BASIC DESIGN FEATURES:
Full Intensity Controlled rheostat cap that allow the light to be turned on at ANY power level.
Purpose built and designed for night hunting.
Precision machined T6 Aircraft grade aluminum with type III hard anodization.
Designed, serviced, and warrantied in the USA.
Our second generation hunting light with Scan & Kill® Technology. Featuring a unique Zoom / Focus design which allows you to focus and or defuse the light beam.
Full intensity controlled adjustable power output of the LED combined with Zoom / Focus give you absolute control of light output and light intensity depending on the situation and your night hunting style.
The W403IC comes in your choice of Green, Red, or White LED. The LED assembly features a 3-year warranty.

Green LED - Ideal for hogs, general predator hunting (coyote, fox, bobcat)
Red LED - Ideal for light shy predators (coyote, fox, bobcat)
White LED - Ideal for law enforcement, general predator hunting, alligator, raccoon, other varmints, filming at night, general usage, when extra long-range light is required

The W403IC LED assembly is produced by an ISO9001 certified LED manufacturer for consistent color, reliability, and manufacturing quality.
W403IC KEY INNOVATIONS AND DIFFERENCES:
1. Wicked Lights Full Intensity Control Tail Cap
All New for 2015, The W403's Full Intensity Control Tail Cap out classes the competition with true full-range control of light intensity coupled with selectable "ON/OFF" to any light intensity level the user desires - An industry first-in-class ability!
In lieu of using a poorly performing analog circuit design for dimming and intensity control like some competitors use, Wicked Lights uses advanced pulse-width modulation (PWM) technology which provides for a much smoother and wider ranging light intensity adjustment ability and eliminates skewing of LED color which plagues analog designs.

The mechanical tail cap design coupled with PWM circuit allows the user to adjust the light intensity to their exact intensity preference based on ambient light, distance to target animal, and animals reaction to the light (if any). Desirability of this design is easily realized when over a feeder or bait station and having the ability to pre-set the light intensity to the exact intensity for the distance - Not to bright, not to dim, just right, and then turn it "ON" to the exact intensity when needed. The PWM advantage is also easily demonstrated while scanning and having the ability to quickly adjust light intensity up or down based on the animals reaction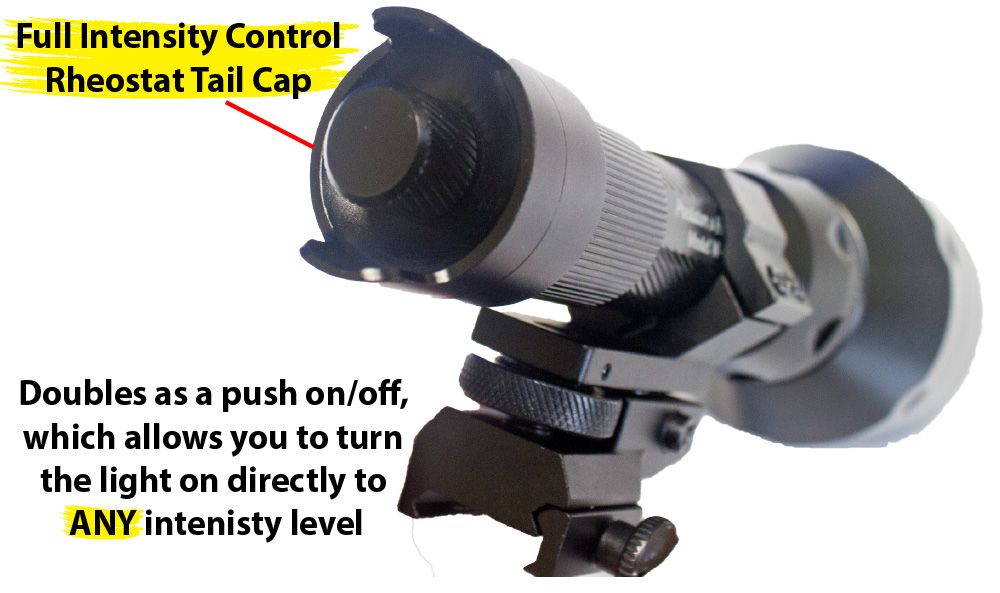 2. Not All Light Bezels Are Created Equal:
Bezel Design: When considering a light for night hunting the first thing you should look at is the bezel design. Decorative scrolling and cut-outs on the lens retainer ring may look artistic and aesthetically pleasing to the uninformed buyer. However, they can cause big problems when in the field at night...
Decorative cut-outs are not the best choice for night hunting. Study the picture below: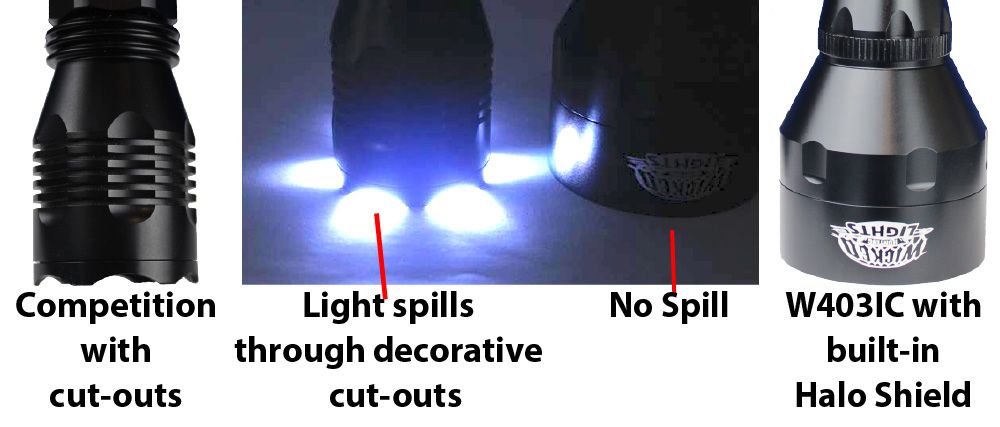 Both lights are "ON". In the field, at night the light on the left will "halo" and illuminate the shooter, weapon barrel, equipment, and hunting partners to the left and right of him. The W403IC on the right side minimizes the potential for side spill of light or "haloing" personal or equipment by utilizing a properly designed bezel with a built in halo shield.
Scan & Kill® Technology:

An exciting and relatively new development in night hunting lights is the ability to zoom focus the beam. The advantage of the zoom focus beam is the ability to defuse the light for your initial scanning, once you see eyes you can quickly adjust the intensity up or bring it back down based on the target animals reaction (if any) to the light. Ideal technique would involve defusing the light down during initial scanning until eyes are spotted, then gradually bringing up the intensity to full power, positively identifying the animal, and if hunting with a partner they engage the target animal with a dedicated weapon mounted light, or if they not equipped, then illuminating the target animal with the W403IC scan light for the shot.
3. Not All Zoom Focus Lights or ZF Mechanisims Are Created Equal: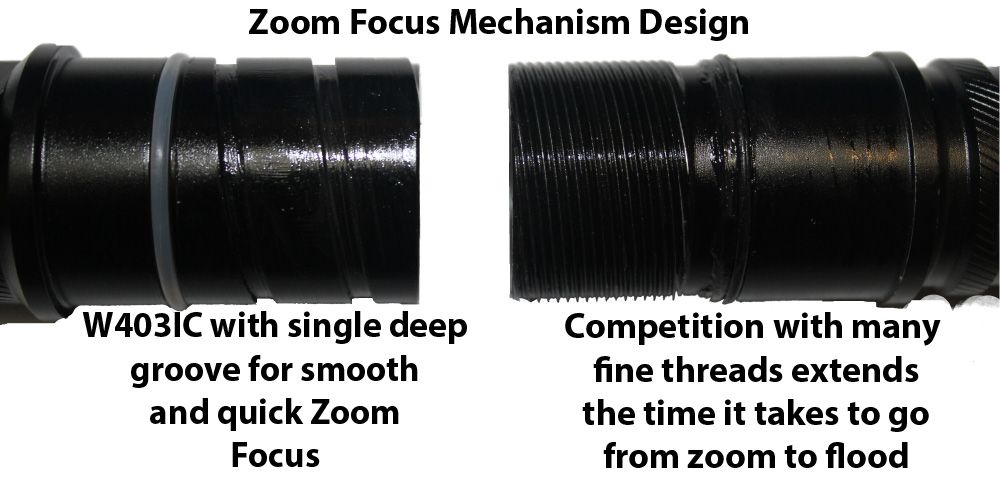 The Wicked Hunting Light W403IC utilizes a robust deep rotation grove for smooth transitions from flood to zoom. After careful consideration and extended field testing in very cold icy environments (Alaska, New York, Minnesota) the fine treaded style design was eliminated because of durability issues. Cold temperatures, frozen moisture and grease do not mix well with fine aluminum threads. Multiple fine threads also increase the effort, amount of hand twists, and time to rotate the bezel from flood to zoom or back.
4. Not All Standard Light Features Are Created Equal: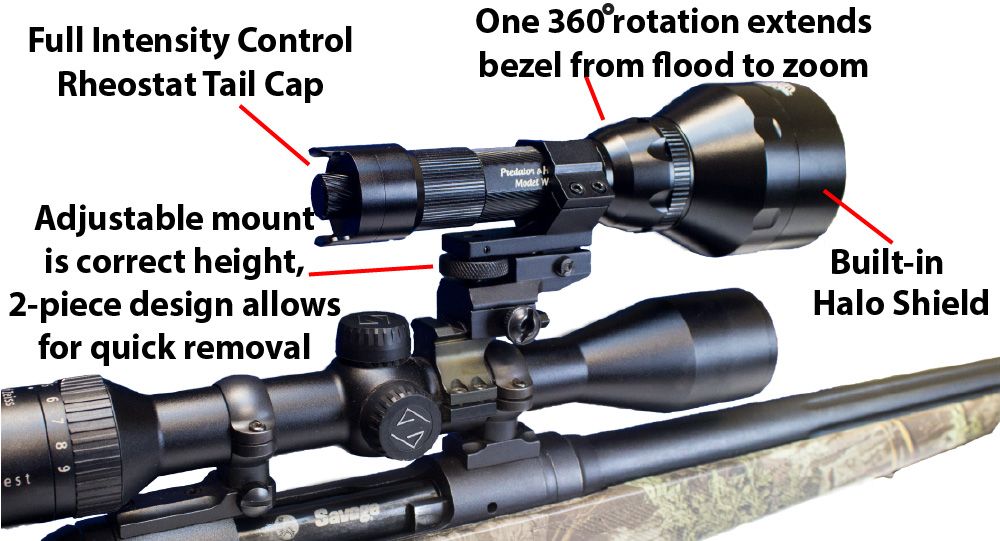 The W403IC is the only hunting light in its class featuring a built in halo shield which minimizes inadvertent Illumination of personnel or equipment to the left and right of the operator.
Easy rotate bezel section which provides for complete control of light beam diameter and intensity in the range of one 360 degree rotation.
Includes the all new Generation 3 coiled cord "ON/OFF" tail cap with enhanced and upgraded wiring, push in and rotate to secure coiled cord for enhanced durability.
5. Not All Convex Lenses Are Created Equal:

6. Not All Adjustable Light Mounts Are Created Equal: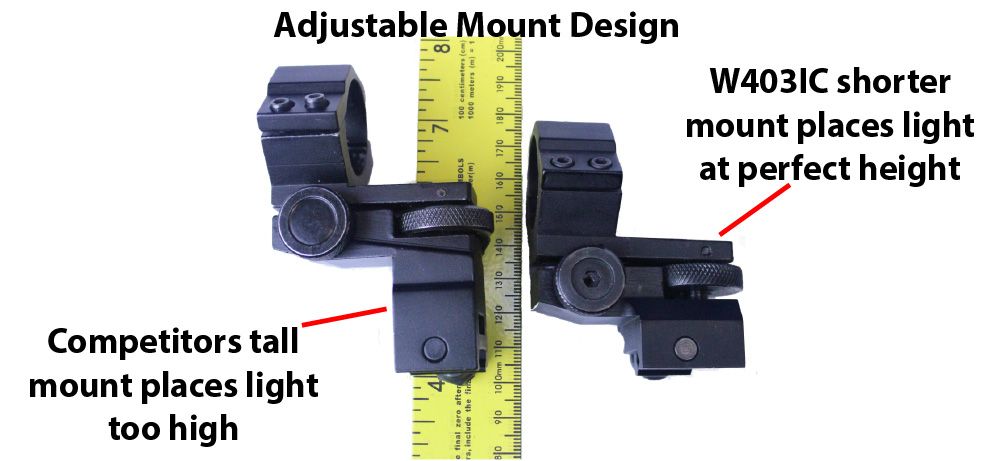 One of the most important area to consider when choosing a scope mounted light is the mechanism which the light attaches to the scope mount and its ability to adjust the fully focused (zoomed in light) beam to the center of the cross hairs.
What became readily apparent during our testing of the various commonly used adjustable scope mounts used by many of our competitors is their marginal suitability for use as a night hunting light mount. They all failed our field testing in a number of areas:

FAIL

Wrong height above picatinny mount platform which prevents proper adjustment and alignment of light beam with. scope cross hairs.

FAIL

Poorly designed elevation adjustment gearing with too little travel.

FAIL

Weak internal adjustment tension spring.

FAIL

Light mount diameter not correct. Difficult to start and secure the four hex head screws when light is installed often resulting in stripped threads.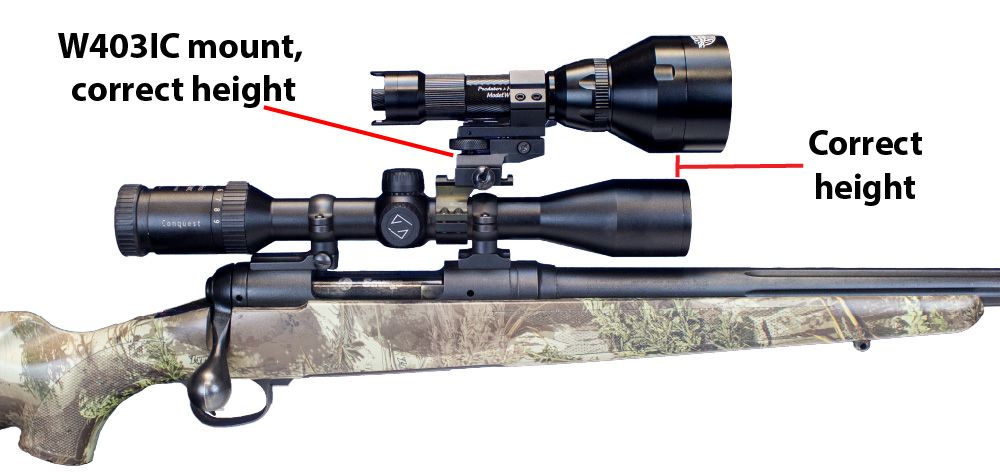 The new designed W403IC Adjustable Light Mount eliminates design failures found in other adjustable light mounts:

PASS Correct height above picatinny mount platform which provides for proper adjustment and alignment of light beam with scope cross hairs.

PASS

Elevation adjustment gearing with full little travel to adjust light beam to cross hairs.
PASS 300 percent stronger internal adjustment tension springs.
PASS Correct light mount diameter. Easy to start, secure, or remove the four hex head screws.
7. Not All Light Outputs and Battery Run Times Are Created Equal: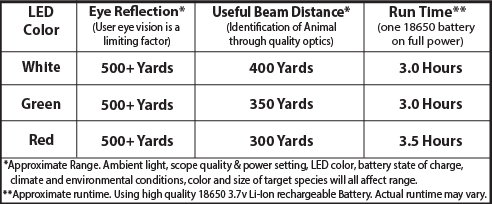 Battery runtime note: Each Wicked Hunting Lights kit includes Li-Ion 18650 Protected Circuit (PC) batteries. Because of battery manufacturer variances, particularly in the under voltage settings of batteries and exaggerated milli-amp hour rating (mAh), light operation times can vary significantly. For example one brand of battery could have a 3.2VDC under-voltage PC setting and another could be 2.5VDC, which will result in a longer light runtime for the latter. Because of these variables the light runtime will vary depending on battery, milli-amp hour rating (mAh), battery state of charge, and PC installed in battery. Your results may vary.
Manufacturer specifications are subject to change without notice.