2018 Model with improved gen 3 adjustable mount, soft sided carry case, improved higher intensity Red LEDs.
Successfully target hogs, coyotes, fox, bobcat, raccoons and varmints with the Wicked Lights W403 IC Hog and Predator Hunting Predator Pursuit Pack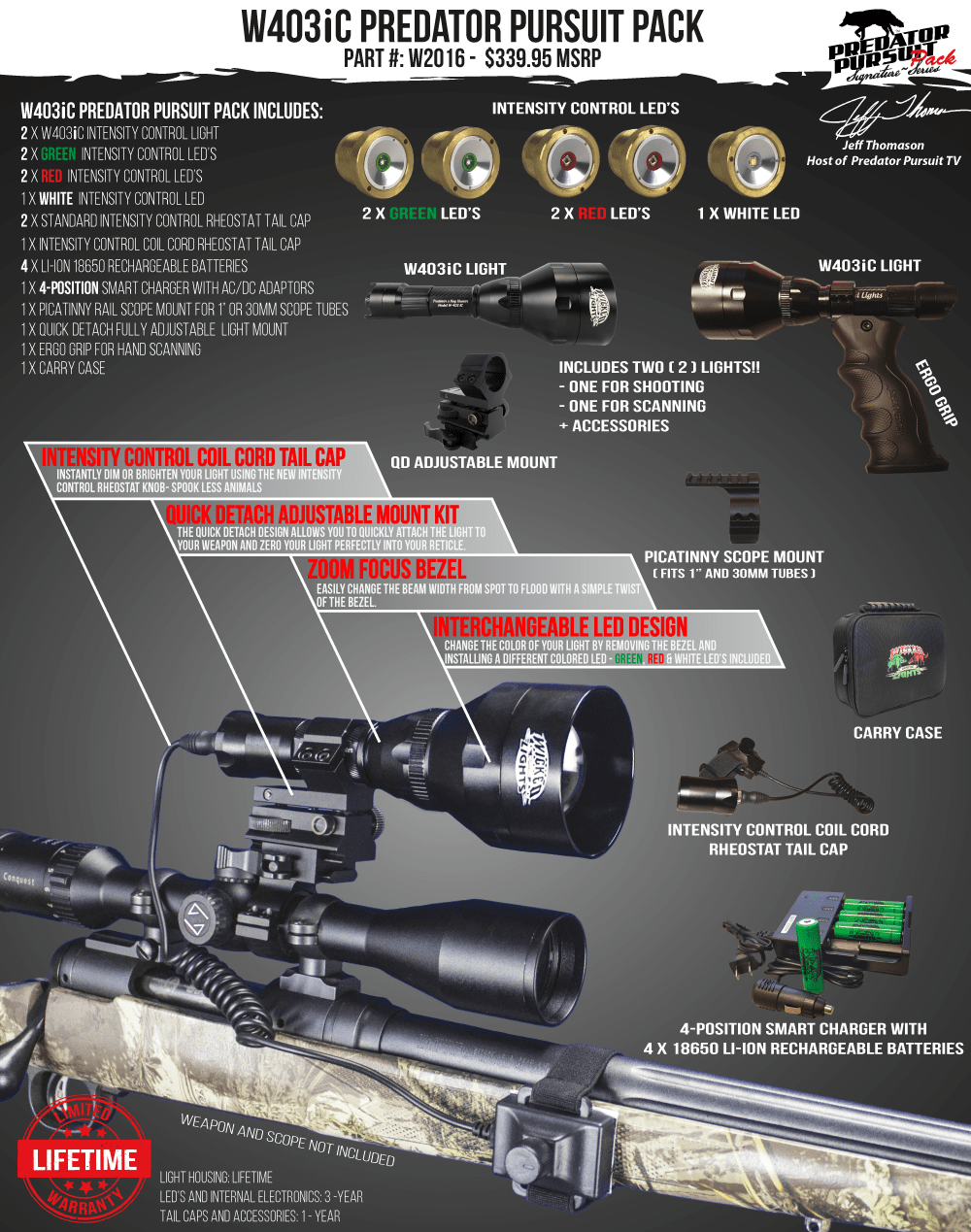 This package includes:
TWO W403 IC Lights with Full Intensity Control Tailcaps, 5 interchangeable Green, Red, and White Intensity Control LED's (2 x Green, 2 x Red, 1 x White), 4-position battery charger, and 4-Li-ion rechargeable batteries, Gen 3 adjustable weapon mount, ergo grip with mount, one intensity control coil cord tail cap, and soft sided carry case
The Wicked Lights W-403 IC is the ideal light for night time Predator & Hog hunting and it's the best value in its class. Here's why:
The W-403IC basic design features:
Purpose built and designed for night hunting.

Precision machined T6 Aircraft grade aluminum with type III hard anodization.

Designed, serviced, and warrantied in the USA.

Our second generation hunting light with Scan & Kill® Technology.

Featuring a unique Zoom / Focus design which allows you to focus and or defuse the light beam.

The W403IC features a full intensity control brightness level capability STANDARD.

Combined with Zoom / Focus give you absolute control of light output and light intensity depending on the situation and your night hunting style.

The W-403IC comes in your choice of Green, Red, or White LED.

Green LED - Ideal for hogs, general predator hunting (coyote, fox, bobcat)

Red LED - Ideal for light shy predators (coyote, fox, bobcat)

White LED - Ideal for law enforcement, general predator hunting, alligator, raccoon, other varmints, filming at night, general usage, when extra long-range light is required

The W-403IC LED assembly is produced by an ISO9001 certified LED manufacturer for consistent color, reliability, and manufacturing quality.

Operation temperature: Minus -30 ~ 120 degrees fahrenheit

O-ring sealed, water resistant

LED with 50,000hr life

The innovative combination of high magnification convex lens, specially designed LED circuit, and LED module that screws in to mount pad stop combine to eliminate the tedious and frustrating LED light focus adjustment procedure found in many of our competitors designs. No adjustment required - access and change the LED in 20 seconds.

Warranty: Limited three years on W403F light assembly. LED assembly three years. Battery, coiled cord tailcap, and charger one year. See manual for details and limitations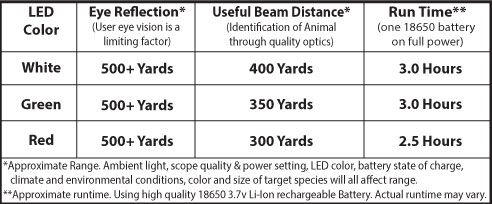 *Ambient light (moon phase), optics quality & power setting, LED color, battery state of charge, background foliage, rain, snow, and size and color of target species will all affect range
Manufacturer specifications are subject to change without notice.